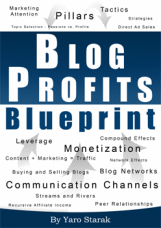 Direct monetization isn't something I write about a lot. As most of you will know, my personal speciality is business and authority blogging. Indirect monetization through using your expertise, experience, credibility and authority. I realise though that many of you do want to know about how to make money directly from your blogs. If that is the case I have a treat for you.
Yaro Starak has produced a free ebook called "Blog Profits Blueprint". To get the download you just need to supply your email address. This is a lead-in to his Pro-Blogger mentorship program but the ebook is free regardless if you go ahead and subscribe for the full system.
So far the server seems to be getting a fair amount of hammer so I have yet to receive my download link but I am assured the material is worth the wait!
Get over to the download page to get your copy of the ebook now.
Update: Blog Profits Blueprint Review