Blog Profits Blueprint is a free ebook in PDF format about making money with blogs from Yaro Starak. The other day I wrote about it but had trouble getting the download. Today I can tell you what I think about it.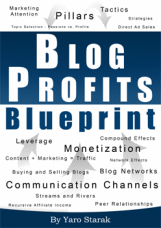 The first thing to note is despite it being completely free (just provide your email address to get the download link) it is well stuffed with 55 pages of content. Not all of it is brand new and original, but it is all well written and drawn from experience. I couldn't say that about the majority of ebooks I have bought and paid for so this is an especially good and rare thing about a free ebook (ok, signup incentive, but still free!).
Yaro goes through all you need to know to make money from your blog. Not just the mechanics of monetization but also things like how to choose a blog topic. In addition there is a video screencast where he walks you through his own blog describing how he profits from it.
To get the ebook simply provide your email address. There is also an affiliate scheme that pays a commission should you buy his full training product after reading the free ebook (full disclosure, the links in this post will provide me the same commission if you later sign up to his full program).
Will you suddenly become rich following this advice? Probably not, but you will learn one or two things to help you on your way I am sure. It's free, what do you have to lose? If you want to make money directly from blogging then Blog Profits Blueprint is well worth a read.